Yoga Teacher Profiles in Casperia
Lucy Bremner
Lucy is the co founder of Sunflower Retreats. and has been a holistic practitioner in the UK and worldwide since 1988. She specialises in a wide range of body work, therapies and energy and spiritual balancing treatments such as Chakra Balancing and Reiki.
Lucy was drawn to the practice of Hatha yoga and the yoga philosophy while studying holistic therapies professionally in London in 1989. In the late 80's and early 90's, then in her twenties, she travelled independently when at that time it was not common for women to travel alone, her journey took her to Nepal, India, Thailand, Malaysia,Indonesia, Bali, Australia, New Zealand, Sudan and the USA, where she broadened her studies of yoga, Eastern philosophy and the healing arts, including the American Indian tradition and philosophy.
Lucy is a qualified Holistic Therapist and international yoga teacher, accredited by the Friends of Yoga - a society and examination body for yoga in the UK and India which is recognised by Yoga Alliance©, as an international yoga school. Over the last twenty five years she has helped thousands of people with healing therapies and with yoga instruction, either through her yoga classes and treatments, or through all she has coordinated in the yoga and healing section at Sunflower Retreats' centre in Casperia. Lucy specialises in working with women's issues and health and wellbeing and her interests also include Ayurveda, Soul food cooking, Shamanism, Astrology, art and the study of the sacred and divine feminine.
Lucy's yoga classes are holistic and grounding, fusing the elements of Ying and Yang.
Traditional asanas including flow sequences are practiced with emphasis on pranayama & meditation practices in order to bring balance (union) to the body, mind, emotions and spirit. She also teaches Water Yoga or Acqua Yoga where certain yoga asanas are practiced within the element of water; water being a supportive element for physical and emotional health and wellbeing.
Lucy loves to share and communicate the ancient knowledge of Western and Eastern traditions so to infuse our connection back to Mother earth, our body & self , this is done directly through the healing power of yoga and meditation and Yoga nidra, both in her classes and her treatments.
She is a gentle teacher, encouraging and supportive in her teaching and holistic therapy work.
A mother of two children born by natural childbirth methods, she also teaches pregnancy yoga and preparation for natural birth.
She also teaches private sessions one to one so to work on particular individual wellbeing requirements.
You can read more on her personal website www.healingthedivinefeminine.com
Sandra Galindoma - ITALY - September 5-11, September 26-2 October, October 17-23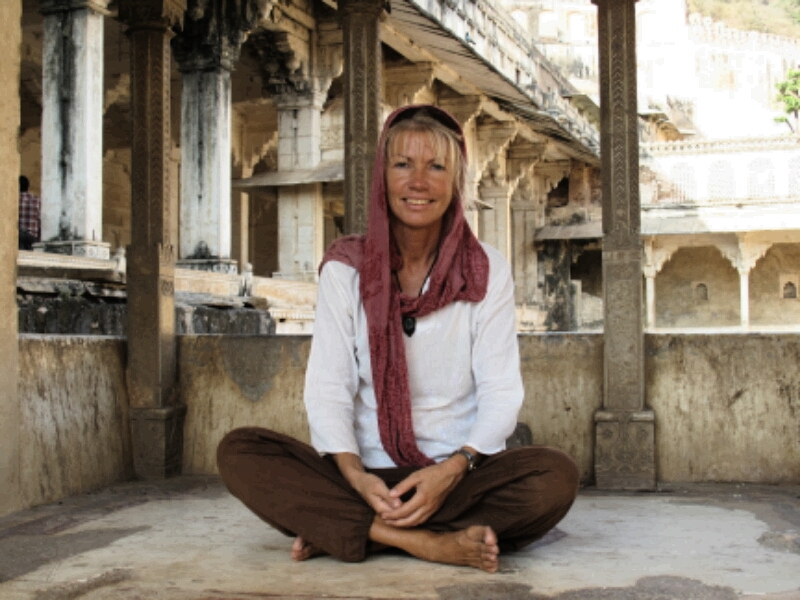 I started my spiritual journey around 20 years ago, learning and practising meditation and Yoga in different Ashrams in India. My daily practice has shown me how to approach my life with full awareness, accepting and embracing each moment as it comes, how to be present and available for the natural flow of life. Choosing to walk down this path has changed my life completely and left me more accepting of myself and others, and the nature of reality.
Trained as energy-healer, body-worker and psychologist, in my Yoga classes I share an energetic practice focused on opening, activating and balancing the subtle energies. a combination of Hatha Yoga postures, breathing - pranayama, meditation and chakra balance exercises which create the space for effortless meditative states to arise. I am paying attention to each individual in my classes, respecting their own uniqueness and encouraging them to love and celebrate who they are.
Rosi Robertazzi - Italy - JULY 18-24 September 12-18 & October 3-9
Rosi Robertazzi, from Italy, joins us again this year.
Rosi specializes in promoting wellness through yoga, art and nature. She has studied and practiced traditional Kung Fu, Tai Chi and Qi gong for twelve years and has been a trainer facilitating a range of classes such as yoga and bodywork, movement and voice improvisation, and themed art classes.
Rosi currently teaches yoga, Partner Yoga, Thai Yoga and Chair Yoga in Sabina, Italy and has been teaching yoga integrated with Thai massage in a way intended to merge, in a harmonizing dance, the individual's body, mind and spirit. This holistic experience brings the body and mind into the ideal conditions to reach the deeper dimensions of spirit. Her lessons are are designed in a lively, entertaining and creative way.
PAOLA PIOZZI - Italy - august 22 to September 4
Fascinated by the yogic universe since she was a teenager, Paola started to study Hatha yoga in Rome, at the same time developing her interest in meditation techniques.
Upon moving to Brussels, she continued her studies in yoga with Willy Van Lysebeth and later she attended the yoga teacher training course under the guidance of André Van Lysebeth, internationally well appreciated.
She travelled several times to India to deepen her knowledge in the yogic discipline following the Sivananda and Satyanada tradition, also attending specialized courses mainly focused on Yoga Therapy and relaxation practices for stress management.
She has been teaching yoga since 2002 leading beginners and advanced classes, as well as individual sessions, with a special regard for breathing awareness and inward perception, also achieving experience in teaching gentle Yoga for Seniors and Yoga for Pregnancy. She is co-founder of the "Yoga Lakshmi center" in Rome, where since 2009 she has been teaching Yoga leading Yoga weekly classes, Yoga Nidra sessions and thematic Yoga workshops.
Cesare Dapiaggi - Italy - September 19-25 & OCTOBER 10-16
We welcome Cesare Dipiaggi, from Italy, back to our Casperia team this year.
Cesare started practicing yoga assiduously in 2010, after realizing that he could play a key role in treating disorders of the bodies and the minds of people weary from years of intercontinental travel. His job as a flight attendant made him aware of the negative consequences of nights spent on shift work and of jet lag.
After making several trips to Asia, he started the discipline of Hatha yoga through a method created by Supreme Master Gabriella Cella; the first woman to bring the ancient teachings the Sivananda to Italy. After studying for more than forty years in various ashrams scattered across India, she developed the Yoga Ratna method where 'ratna' means 'the jewel' through which we uncover our true being.
Cesare teaches a path that winds through the study of the elements, the asanas that represent the many deities of the Hindu pantheon, and the 'scruti' - listening to their energy impression. Pranayama helps spread this new information in depth, through breathing, and meditation of loving kindness serves as an aid to clear our mind of all negative thoughts.